Send to Kindle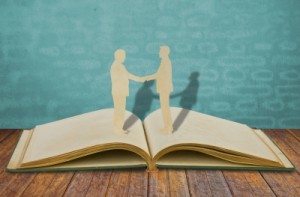 "To Land a Publisher, an Author Prints Sample Copies for Stores" — Wall Street Journal, June 10, 2012
Count on the Saturday Wall Street Journal for a weekly insight into the state of the publishing industry…usually served with a healthy dose of empathy for authors.
That's where I read about this intriguing strategy to win a contract from a traditional publisher: Get independent booksellers on your side first.
Isn't that putting the cart before the horse? In this market, who can tell?
I've heard of a smaller-scale version of this technique: an author 'seeds' demand by self-publishing a few hundred copies, getting the book all jacked up with an ISBN number and other computer-tracking codes, then sneaking it onto the shelves at local retailers. Then the author or her sidekicks pluck the book from the shelf and innocently try to buy it, triggering reorders in the store's system. Come to think of it, you could probably pull off this seeding technique with as few as 100 books, if you had nothing better to do than plant them, buy them, and plant them again.
The strategy outlined the other day in the Journal is actually an insidious turn on social marketing. Once you are positive your manuscript is in buy-able condition (and if you're not sure, it's not), take it to the owners or managers of a few independently owned bookstores. If you can draw in the owner of a store that specializes in your genre — mystery, cookbooks, travel — all the better.
Sweet-talk the owner into critiquing your manuscript. If the reviews are positive, you have the equivalent of 'jacket blurbs' to bring to balky publishers.  In business terms, you've minimized their risk by pre-selling to key buyers. It's harder for them to resist reading your manuscript when they know that retailers have taken the time to both read it and advocate for it.  And for indie booksellers, it's sweet karma.
Thanks to WWW's newest team member, author and ace media trainer, Joanne Cleaver, for this post, and thanks to FreeDigitalPhotos.net for the cool graphic!