Send to Kindle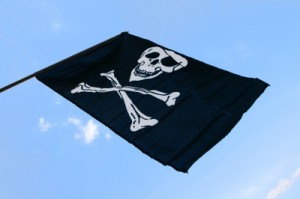 Friday the 13th may be lucky for some and not so lucky for others. Either way, we know you've been working hard on your books and your social media all week long, and TGIF!
So, instead of tossing more on your social marketing plate we thought today would just be about having some FUN on Facebook and, well, flying your inner pirate freak flag. This is a silly selection we've been showing clients for a couple years, and every one of them has laughed out loud.
Best of all, this exercise has no purpose other than to PLAY; it's easy (and just as easy to change back). Interested?
Okay, all you need to do is scroll to the very bottom of your Facebook page and click on the word "English (US)" (next to the Facebook 2012 at lower left). A pop-up screen will emerge with several columns of language choices. In the first column, as shown below (click on illustration if you need to view larger), select "English (Pirate)"…
And then enjoy the view! Only you'll see your page in your new language. And for those of you not so well-versed in pirate speak — here's a brief Pirate/English dictionary to set you on your way… Enjoy, scalawags!
Home port – Home
Things Closer to Me Heart – Favorites
Captain's Log – News Feed
Bottle o' messages – Messages
Grog Fests – Events
Crews – Groups
Arrrps – Apps
Spy It All – More
Mateys on Board – Friends on Chat
Update Your Plunderin' – Update Status
Hoist Portrait/Bewitched Portrait – Add Photo/Video
Fire a Query – Ask question
What be troublin' ye? – What's on your mind?
Arrr, This be pleasin' to me eye – Like
Care not fer such trifles – Unlike
Amend flag – Edit page
Mayday – Help
Send below decks – Hide
Walk the plank — close
(Pirate flag graphic courtesy FreeDigitalPhotos.net)