Send to Kindle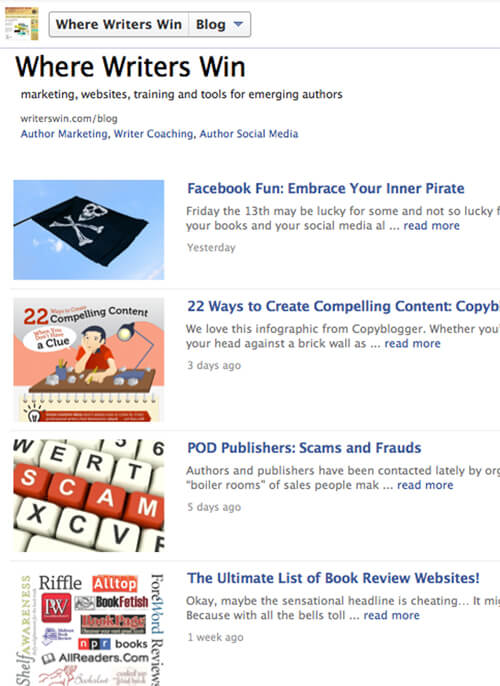 One advantage to the newer Facebook professional page profile is the featured App tabs located just below your cover photo. And even if you're tweeting and updating your FB author page status with your latest blog (ahem — you should be if you're not!) it's a nice (and simple to install) addition to provide readers with this simple tab to your FB page via networkedblogs.com.
Here's what to do:
Be logged into your Facebook account and on your FB pro page, and in another window have your blog open (so you can quickly copy and paste the URL).
Visit networkedblogs.com and at the top right, click where it says, "Add Your Blog."
You'll be asked to log in with Facebook – do that.
Logging in will bring you to a page that lets you Register a Blog. Type or paste in the full URL of the blog, including the http:// — i.e. http://writerswin.com/blog/ then click Next.
Now you'll be asked to fill in a bit more info, including the title of the blog, a brief description, a few tag words, etc. The "feed" address to the blog should be automatically entered.
When you finish, you'll be brought to a page about the blog. On the left hand side of the screen under "Blogger Tools" you'll see the word, "Syndication." Click that, then go check your email for a verification email. Click where indicated in the email and you'll be brought to another networkedblogs.com page.
Click on the "Blogger Dashboard" in the upper right hand corner; then in the menu under your blog, next to Publish, select Add to Facebook Page. Select the page you want to add your blog to and click the blue "Add Page Tab" button.
Head over to your Facebook Author page, refresh the page if needed, and you'll see a tab that says "Blog." Click on the tab and you'll be able to choose which blog (yours!) to appear on the page. If there are photos/graphics on your blog posts, the list of recent post excerpts will appear with thumbnails (as shown), giving your Blog tab on Facebook a clean, professional look and offering readers another way to engage with your words.
Keep in mind, not everyone clicks on App Tabs — for best practice and the best chance for everyone to know you have a new blog post, install the tab, but still make a point of pasting in a link to your newest content each time you blog! Questions, feel free to comment and we'll answer ASAP!