Send to Kindle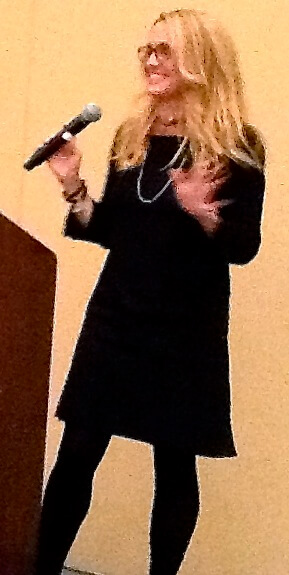 At right, New York Times best-selling author Patti Callahan Henry keynotes SCWW banquet, speaking of her own journey to author success…
I so enjoyed the opportunity this past weekend to teach at the SCWW (South Carolina Writers Workshop) annual Writer's Conference in Myrtle Beach. Having been a former attendee and later a co-producer of this conference (with fellow WWW team member Bren McClain), it was great to be back at the beach and see a whole new crop of emerging authors.
One of the surprising perks faculty agents and editors have always appreciated about this event (besides its great location right on the ocean and the unusually good food, lol) is that SCWW attendees really have their act together when it comes to offering up critiques. And that's thanks to SCWW's chapters around the state that meet once or twice a month to read each others' work and share both criticism and support.
Writing in a vacuum can be a tough proposition for any of us. It's often perplexing, this need to be alone to write, and yet with the ultimate intention of communicating your words to others. Critique groups let us try those words out on folks who are a representative sampling of potential readers.
But more than that, forming a local tribe of authors can be a tremendous networking tool. Because each author has their own passion and their own story, it's easy to encourage others. Whoever makes it out of the box first can help fellow writers along and share what's worked and what hasn't, from the writing to the publishing to the marketing of a book.
I was proud to see that in action with a number of WWW author clients who were in attendance as both guests and faculty at this year's SCWW. Fred Fields, McKendree Long, Millie West, Jacquie Gum and Lynne Marie are all dazzling examples of hardworking authors who each are so generous with their time and talent; willing to share with other aspiring talents the knowledge they'd already gleaned on their journeys — the bumps as well as the smooth rides.
Likewise, the conference organizers, all volunteers, went above and beyond to provide a warm, receptive and professional atmosphere for all who attended. Volunteering can be a thankless job, but I'd like to add our thanks to the voices of all those I heard raving about this conference.
Okay, so this isn't your usual "how-to" post, and there's no homework today, but the lessons should be obvious:
Form your tribe
Help each other all you can
And don't ever take for granted that being a writer puts you in an ELITE group of folks whose generosity of spirit makes us all proud to shout, "Writers Rule!"