Send to Kindle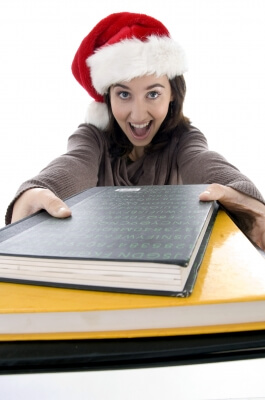 Yes, the hustle and bustle of holiday shopping is in full throttle. Online, in emails, in newspapers, on TV. We received over 180 emails just on Cyber Monday sales. How do we set ourselves apart in this crowded space AND get people reading?
As we all know, books really DO make the best gifts — there's one in every size and for every interest for everyone on your list. So let's help tell the world this holiday season! Here's what YOU can do to get in the mix and enjoy some extra sales while promoting literacy and good will along the way:
1. Investigate local events — every town has local shop walks, fairs and special sales. Perhaps your book(s) can tag along. If you don't want to purchase your own booth or space, consider partnering with other local authors or with a related retailer. In one example, a WWW client is displaying their new release, Drink Wine and Giggle, from the Papyrus stationery store during the big King Street Shop Walk in Charleston, SC where thousands of eager women will be looking for the perfect gift for their girlfriends! Better still, proceeds of the entire event benefit the local Center for Women.
2. Check out giveaway opportunities at Pitchrate.com. They offer the lastest news and holiday gift guide opportunities for authors, but they also list media outlets looking for a giveaway or two — Giving away a free book to the right audience isn't just kind; it can garner tons of attention for you and your work! WWW client Fred Fields does this with great success.
3. Partner with a local charity during the holiday season to donate a share of proceeds to their cause, and announce the news via an online news release, your website and your social media. What natural tie-ins might your work have? In example, women's fiction writers may support a local women's shelter; YA writers can promote a teen center; writers with animal-themed stories can back the local pet rescue, those writing about war may want to support local veterans… and any of us can promote literacy! Offer a copy of your book, and a reading if applicable, to your local library, and blog about it. Holiday-themed blogs are all the rage and by sharing your stories you can encourage readers to give to causes you support, and to share their own tales, too.
Partnering with a charity sells books, but it also fuels the holiday spirit of everyone you touch and can draw even more positive attention for your favorite cause, something that will make you feel great all season long (and isn't that what the holiday season really IS all about?)
4. Involve your readers: You might want to pick a favorite holiday Facebook post from a reader, or a neat Tweet, or a cool Goodreads review and offer up a coupon or book – letting your readers know you appreciate their input and how each of them are getting into the holiday spirit, too. Solicit comments and get everyone in on the fun!
5. Website/email incentives: Whether you partner with another offer for a buy one/get one (BOGO), or give a discount, or send autographed copies with holiday messages and/or provide gift-wrapping for those buying gift books, there's no end to the creative possibilities you can offer for that little extra special "something" that will set you apart.
What are you doing to promote your own books this month? We want to know! (Graphic courtesy FreeDigitalPhotos.net)