Send to Kindle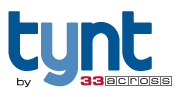 Our thanks to Pam Niska, technical account manage for Tynt for this guest post, a follow-up to the article we published about Tynt on January 25. After you've installed the Tynt script on your author website or blog and you visit your dashboard to view the various Content Intelligence reports available, here are some tips about what you can DO with that intel:
Keywords:  We see over and over again the intent to search, users copying short word segments 1-5 words that are usually a name or short phase.  When the user makes a short copy it is typically because they are looking for more information so they copy and paste to the greater web.  Many publishers use the Outbound Keywords to produce better internal linking to content that already exists or build additional to keep the user on the site longer.  You can also use the Keywords to help craft headlines and article titles.
Top Images:  You can see the images that are getting copied and shared the most in the last day, week and month.  Use this report to post images to Facebook, Twitter etc, to bring users to your site.
What's Being Copied:  Use the Most Copied Content by posting the top 5 articles to FaceBook, Twitter or other Social Networks to bring users to your site.
Additionally, there are a few different tools to enable to help sharing activity:


SpeedShare – a new tool which enables your readers to post content directly to their Facebook, Twitter, Google Plus and Linkedin accounts, along with the page's referring URL. SpeedShare also features a PinIt button, which surfaces one second after users hover over an image (see it live across www.writerswin.com). Click on the graphics shown to enlarge the view here.
Follow US – allows you to include your site's Twitter and Facebook handles with the attributed link, to enhance social media presence. For Example:
"I told our guys it's never pretty. It's never perfect, but it's us," Ravens coach John Harbaugh said. "That's the way we do it."

Read more: http://triblive.com/sports/nfl/3408901-74/ravens-super-yards#ixzz2JwuEn5d5
Follow us: @triblive on Twitter | triblive on Facebook   
And finally, Address Bar Tracking – when users copy URLs directly from your address bar, Address Bar Tracking allows you to attribute the traffic from this kind of URL sharing.