Send to Kindle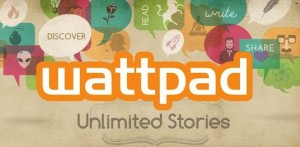 With all the talk among authors these days about trying to drill down to readers for real-time feedback, we think Wattpad is really onto something, and so do lots of authors. While at the Tools of Change for Publishing conference, we had a chance to meet and hear from Allen Lau, co-founder and CEO of Wattpad.
With years of experience building successful mobile tech companies, Allen first wanted to solve a problem he was facing – how to read while on the go. The result was Wattpad. Wattpad connects readers and writers through storytelling, and best of all, it's entirely free. With thousands of new stories added every day, an incredibly active community of readers, and the ability to read on your computer, phone, or tablet, Wattpad offers a truly social, and entirely mobile reading experience, and some serious vetting potential for writers:
Authors Can Connect with 13 Million Readers
Said O'Reilly Media of Wattpad, "Publishers need to establish a direct relationship with their customers, and this is something Wattpad excels at." Case in point: Readers spend over 2 billion minutes on Wattpad every month. Every minute Wattpad connects more than 10,000 readers with a new story from some of the thousands that are being added each day.
Readers can collect stories into reading lists, vote for their favorites, and share and comment with friends and writers. Wattpad is also available as an iOS and Android app, and over 70% of readers enjoy their stories using a mobile device, even when offline. We've downloaded the app and it's super user-friendly.
Writers use Wattpad to connect and engage with a monthly audience of over 13 million readers to share their work, build a fan base, and receive instant feedback on their stories.
More than 500 writers have published pieces that have been read more than a million times. Wattpad provides a completely freeing writing experience, allowing writers to publish their work serially, to write from anywhere using a mobile device or tablet, to collaborate with readers and other writers, and to see their work gain appreciation and inspire fans to create cover art or even video trailers.
Here's a cool video look at how it works:
Now, imagine the possibilities for your own writing… True, you won't get paid on this forum, but there's great value in having a built-in "market research team" for your words, and an incredible opportunity to build an audience: Test those new book chapters on readers, solicit feedback, expose millions of potential readers to your work, your books, your website, your blog…
Getting the picture? There are also plenty of groups and contests, weekly writing prompts, reader recommendations and more. It's an ideal proving ground for a new writer, testing ground for an emerging author and platform builder for everyone with a story to tell.
Keep a close eye on this one, tribe. Please tell us if you're using Wattpad already, whether to read content or to share your own words – we want to hear about your experience!