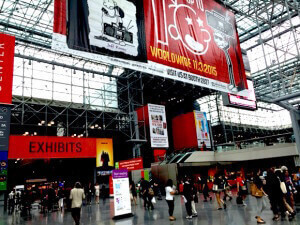 It's a wrap! After four long, book-filled days in NYC, I'm back home sifting and sorting through the tons of info and contacts we enjoyed making at Book Expo America 2015.
We were on hand for the BEA Bloggers Conference (and are furiously adding a new crop of excellent book bloggers to our Winner Circle); the Digital Book Conference (definitely some interesting platforms heading your way); UPublishU, full of tips for authors; the BEA Startup Challenge (with more great platforms and book sharing ideas); and the Expo itself, where we collected intel on a wealth of new potential author services, and had the opportunity to catch up with a number of our stellar partners.
Click on any of the photos below to view larger and stay tuned as we'll be bringing you plenty of shared wisdom in the days and weeks to come. Meanwhile, our first bit of wisdom is actually an update on a previous post from back in March, 2014: new-app-to-read-novels-90-minutes/. Spritz is a reader app that lets you read faster while fully comprehending what you've read.
I was thrilled to run into them at the BEA Startup Challenge and learn they're now available as a bookmarklet on your web browsers! And, while it's not how I'd curl up with a good book, I've installed the uber-cool Spritzlet onto the toolbar of my browser and I can now race through all those great marketing blogs I want to read every morning in record time!
No more excuses to not be able to keep up with information – give it a try, it really is fun!