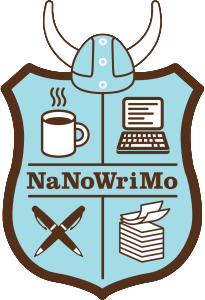 On your mark… get set… GO! Tomorrow begins National Novel Writing Month, or "Nanowrimo" as it's called by the thousands participating. Here's all you need to know to get started!
About
National Novel Writing Month (NaNoWriMo) is a fun, seat-of-your-pants approach to creative writing. On November 1, participants begin working towards the goal of writing a 50,000-word novel by 11:59 p.m. on November 30. Valuing enthusiasm, determination, and a deadline, NaNoWriMo is for anyone who has ever thought fleetingly about writing a novel. Here's a little more about how it all works.
National Novel Writing Month is also a 501(c)(3) nonprofit that believes your story matters. You know how writing makes the world a more creative, vibrant place. Through NaNoWriMo—as well as the Young Writers Program, the Come Write In program, and Camp NaNoWriMo—they work hard to empower and encourage that vibrant creativity around the world.
NaNoWriMo Facts and Stats
National Novel Writing Month was established in 1999. It is a 501(c)(3) nonprofit that believes stories matter. This year, they anticipate half a million writers joining the noveling adventure.
During NaNoWriMo 2012,
Over 250 NaNoWriMo novels have been traditionally published. They include Sara Gruen's Water for Elephants, Erin Morgenstern's The Night Circus, Hugh Howey's Wool, Rainbow Rowell's Fangirl, Jason Hough's The Darwin Elevator, and Marissa Meyer's Cinder. See a full list of our published authors.
Each year, authors offer encouraging pep talks to participants. 2013 authors are James Patterson, Marie Lu, Lev Grossman, Rainbow Rowell, Patrick Rothfuss, Catherynne M. Valente, Bella Andre, Malinda Lo, Holly McGhee, Ralph Peters, and Jeff VanderMeer.
What will 2013 bring? Visit http://nanowrimo.org for more info and events in your area… And start writing!