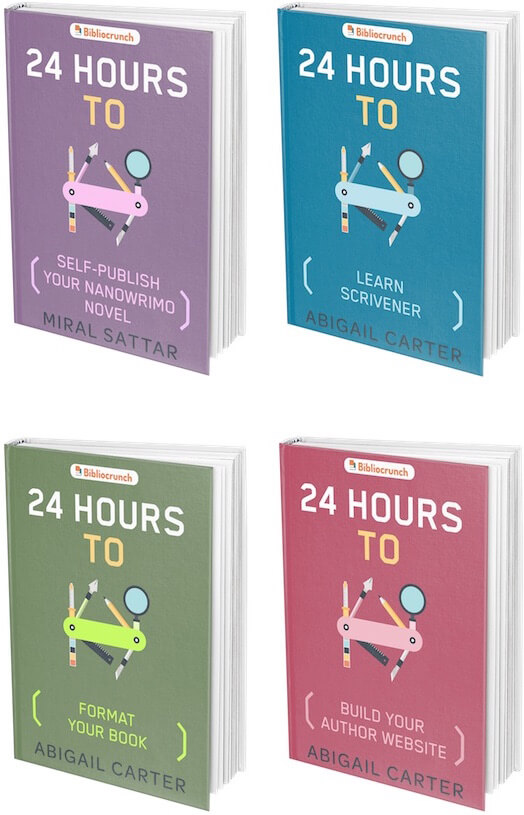 We're super excited to bring you this very special contest for a 4-Book Publishing Tool Kit from our friends at Bibliocrunch!
On offer are 25 Copies of the NANOWRIMO Four Book Box Set, from Where Writers Win and Bibliocrunch. Entering is easy and free. See the entry below and to enter just like/share us on your Facebook page or tweet us with the convenient buttons. That's all there is to it.
The contest ends in 30 days and we'll post the winners here. Here is a description of each of the volumes included in the set:
Book 1: 24 HOURS TO SELF-PUBLISH YOUR NANOWRIMO NOVEL
Learn how to self-publish your Nano novel in 24 hours or less. A quick guide to get you started with self-publishing plus advice from best-selling authors and NaNoWriMo veterans, Hugh Howey and CJ Lyons. In our book we give you a roadmap to fulfill your self-publishing dream.
Book 2: 24 HOURS TO BUILD YOUR AUTHOR WEBSITE
Learn how to create your author website in 24 hours or less. All the information you need to banish any fears of setting up your author website and to help you make intelligent decisions when it comes to finding a host, choosing a blogging platform, writing your first blog post and creating fabulous graphics for your website.
Book 3: 24 HOURS TO LEARN SCRIVENER
Learn how to get started with Scrivener in 24 hours or less. A first look at the most powerful tool a writer can have for getting writing done. This guide will help you take your first, tentative steps into the wonderful world of Scrivener and show you some of the magical things this tool can do.
Book 4: 24 HOURS TO FORMAT YOUR BOOK
Turn your masterpiece into an ebook in 24 hours or less. Who needs InDesign to format a book? This guide will provide you with a first look at a few of the InDesign alternatives for creating your perfect, beautiful ebook or print book!
Please enter below and good luck!