If you haven't checked out Redroom.com yet, you might want to spend a little of your Thanksgiving weekend free time tooling around this great site. Whether you're a published author, aspiring writer or avid reader, Redroom is a go-to site, AND they give back to the community. Here are just five of the many reasons we love Redroom!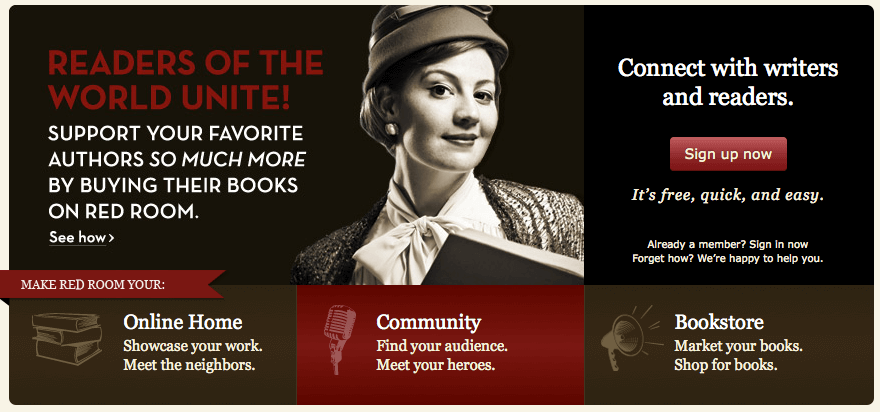 1. Redroom houses thousands of published authors, famous and almost discovered. Professional journalists. Publishing professionals including editors, agents, booksellers, and librarians. Aspiring writers. Seriously devoted readers. They screen new members and use real names, so whomever you meet, they are likely to be friendly, civilized people.
2. As a published author you can build up your author profile with books, audio, video, blog posts and more—create your online home. Get a recent review featured on their homepage. Opt-in to Red Room Royalties and Red Room Relationships for each of your book titles so Red Room can share profits and customer data with you. Create custom thank-you notes that get automatically sent to readers when they buy your books on Red Room. Watch new customers get automatically added to your "Connections" as they purchase your books. Get checks in the mail—15% of your book sales—mailed to you by Red Room (in addition to what your publisher pays you).
3. Aspiring writers can publish blogs on Redroom and you can watch your Red Room dashboard obsessively to see how many people read your blog. You can ask for advice and feedback on your writing. Read the blogs of published writers and listen to their podcasts for tips. Find a mentor. Hire an editor. Meet a literary agent.
4. Redroom makes it easy for readers to find books and buy them, and they'll even get thank-you notes from the author! You can find the most reliable author and book information on the web because the content is author-generated.
5. Publishers, agents and other industry insiders can set up a Member Page to join other literary industry professionals in the Red Room.
From all of us at Where Writers Win, we wish you a wonderful Thanksgiving holiday…