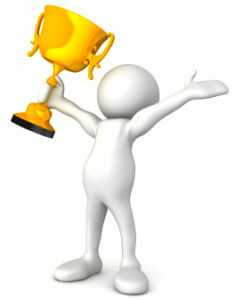 Hard to believe it's June 15 already, isn't it? (Happy Father's Day to all you dads out there!) We're excited to hear how authors are making the most of summer's breezy nights and extra daylight to benefit your writing OR your author marketing (tell us with your comments below!).
Here at WWW, we've been busier than ever, adding what seems like a million new conferences and festivals to the Winner Circle calendar (okay, fifty can seem like a million). WWW team member Delaney Cruickshank has been adding these as well as an incredible number of new competitions. (And this while interning at the National Archives in D.C. this summer!) Thanks, Delaney!
We're expanding our team and offerings, too; on July 1 we'll have several more announcements to share, including two new partners with discounts for WC members. For now, enjoy this family day, and a reminder below about PubSmart videos – Just a month left to grab' em before they're gone…
30 Day Countdown… And Then They're Gone
If you couldn't be at this year's PubSmart, videos of the 2014 PubSmart: Emerging Authors, Emerging Avenues, are available for sale at a special package price of just $129.95 with our $20 off sponsor code #Sponsor14VT — but only until July 15, 2014. Then it all goes away as plans and production for 2015's event kick into high gear.
The PubSmart conference videos include TWENTY sessions/events in all, featuring over FIFTY faculty members discussing today's critical issues for emerging authors.
What's Included!
Two Keynotes:
Breakfast Keynote by Jane Friedman
Lunch Keynote with Hugh Howey
FIVE Masterclass Sessions:
Setting Yourself Up for Success at PubSmart
IBPA's Mini Publishing University
Know Your Rights
Distribution Deep Dive
Social Savvy & Media Mastery
TWELVE Regular Sessions
Who Is the Editor You Need
PubSmart: Which Publishing Option is Smartest for YOU?
Acquisitions Editors: What's the Next Big Read?
Foundations of a Bestseller
Authorpreneurship: From Cost-Planning to Funding to Reinvestment
Literary Agents
Distribution Basics
Powerful Branding: You, Your Book, Your Brand
Discoverability in a Digital Age
How to Approach Booksellers and Libraries
Ask a Publicist
Cultivating Influencers: Reviewers and Book Clubs
PLUS, a pop-up INTERVIEW with Hugh Howey by Porter Anderson!
This collection will only be available until July 15, 2014, so don't delay; you can order online now and immediately begin benefitting from the hours of publishing industry insights! (Writers groups – grab one and share the screenings with your group and some popcorn!)
To order, visit PubSmartCon.com. Once completing your purchase you'll receive an email with login details. You can watch/download all your PubSmart conference videos at your convenience, but only until July 15, 2014
What Attendees Have to Say!
"With panels of experts in every area of the publishing spectrum, including Jane Friedman, CJ Lyons, and Hugh Howey, we heard from the best of the best when it came to communication, branding, marketing, working with agents and publicists and the many support options available today. No stone was left unturned." – Patricia Sands
"Some great suggestions from really brilliant people, stemming from a truly innovative conference with what I'm sure is a very bright future!" – Ross Browne, The Editorial Dept.
"I could go on about the many returns on my PubSmart investment, but I'll focus on this: what did the conference creators accomplish? They leveled the playing field. They dared to introduce a new authorpreneurship conference model, one never done before…"– Leona DeRosa Bodie
"I went to the conference to get a better handle on how (and where) I fit in the scheme of the writing world; however I came away with so much more." – Rachel James
"I found honest discussion of traditional vs self publishing, aids to authors from expert to newbie, and lots of professionals willing to talk about books and how to get them prepared, printed, and distributed in places readers will actually be able to find them." – Peg Herring