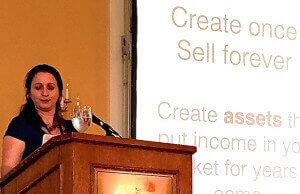 Our thanks to Kiffer Brown of Chanticleer Book Reviews for this guest post. Shown at right, best-selling author Joanna Penn.

I had the pleasure and the good fortune to attend the 2015 PubSense Summit in Charleston, South Carolina. Attending the sessions and presentations was like drinking in information from a publishing fire hose!
Information was emanating from some of the brightest stars in today's publishing world, stars like Joanna Penn. Joanna is a  New York Times and USA Today bestselling author, voted one of The Guardian UK Top 100 Creative Professionals.

The following are just a few of the highlights of Joanna's keynote luncheon presentation at the PubSense Summit:
Think Scalable, Think Copyright

Remember the life of an author's works is his/her lifetime plus 70 years, thus making an author's intellectual property a potentially valuable part of his/her estate. This is the length of time granted by the U.S. Copyright law. Create works and then make your back list work for you for years to come. [Read more…]