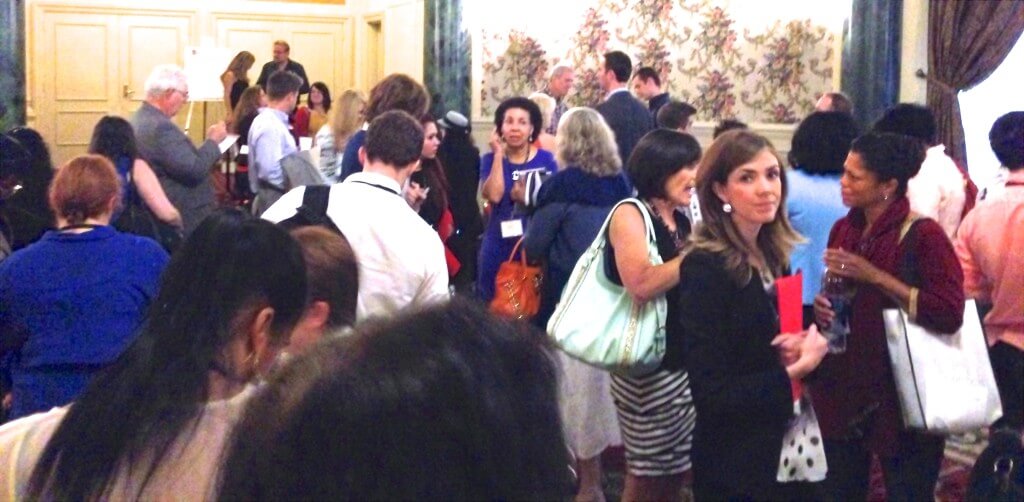 Our thanks to author Steve Piacente for this guest post and photo, taken of a pitch slam at the recent Writer's Digest conference in NY, moments before the doors opened for authors to meet with agents!
Imagine the bullpen overflowing with pitchers. Each will get a turn at the mound, but there's no room for error. One mistake and it's game over.
Welcome to Pitch Slam, biggest draw of the 2014 Writer's Digest Conference in New York City. What's it like knowing you have three minutes to make an agent fall for your story, or at least request a second date?
Three minutes. That's 90 seconds for the pitch and 90 seconds for questions. Once three minutes passes, a bell sounds and your time is up. Those who linger beyond the deadline can expect an unfriendly tap from the on deck author.
As any relief pitcher will tell you, the work doesn't begin when you walk on the field. The work begins well before, in this case by crafting and rehearsing the pitch, and knowing whom you'll be facing before the game gets started.
That in mind, here are 10 tips to help you step it up, whether you're pitching at a slam or chatting up an agent between innings at a ballgame. Credit for 5-10 go to Writer's Digest's Chuck Sambuchino: [Read more...]