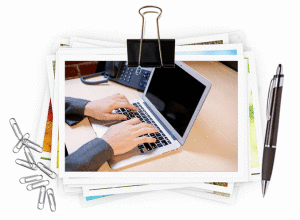 Our friends at Hubspot have been at it again. And, while Hubspot may not be affordable for most authorpreneurs, they do have some fabulous free author internet tools, and a whole lot of new, free ebooks, whitepapers and useful templates.
Yes, they'll ask for your email address, but they're not pushy – you'll just get notices here and there (which are usually about more cool downloads and worthwhile info for our clients, so they haven't bothered us much!).
First, if you haven't played with it yet, take a look at Hubspot's free Marketing Grader tool. You simply add in your entire URL and click the button. You needn't enter your email – it sends you the same report you can view online, and you can (and should) do this regularly. For details on how to use this report, visit our Give Your Author Website a Tune Up article.
Free Stock Images
If your author blog has a business theme to it or you just need a photo of some staples, Hubspot today announced a free download for 150 stock images.
But there's another whole free download for 75 lifestyle images, too!
Whitepapers and EBooks
You might want to check out their free Inbound Marketing Kit, too. That bad boy includes:
Interactive presentation with voiceover: How to combine SEO, Blogging, Social Media for Marketing Results
Extensive Report: The 2012 State of Inbound Marketing
Glossary: 250 Inbound Marketing Terms & Definitions (our favorite!)
Finally, check out their Marketing Library of free whitepapers and ebooks – lots of marketing, social media and SEO information.
Good Advice, Too
While scaled for bigger businesses, Hubspot's blog also has plenty of pertinent info about getting the most from your own website and blog… worth checking on once in a while!
Enjoy grabbing all your free goodies, and let us know what turns out to be most useful for your own author marketing.