We love fall conference and book festival season. There's an undeniable energy in the air as authors from coast to coast dust off submissions and head to one of a plethora of writer events, to learn the biz, meet agents and editors, get critiqued, pitch their work, and network with each other.
This month alone, the WWW team will have attended the 25th anniversary of the Southern Festival of the Book in Nashville, the Florida Writers Conference featuring attendance by over 500 eager authors and authors-to be; and South Carolina's Writing for Publication Symposium on October 26th.
We're happy to report the attendance and enthusiasm for the art and promotion of quality writing is at an all-time high, and attendees are really getting a leg up on the "competition" for readers!
For us, after a brief break in November (giving new meaning to that relaxing Thanksgiving Day weekend!), we'll be heading to New Orleans for the last big writing event of the 2013 season, Words & Music in New Orleans.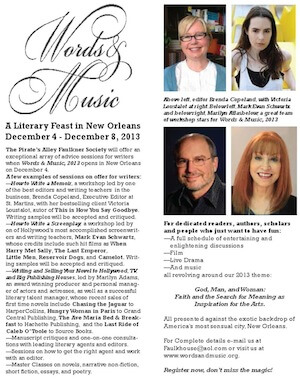 Complete information about Words & Music, 2013 has not been posted as the organizers in New Orleans are furiously working on schedules this weekend – With a huge lineup of faculty comes a huge scheduling challenge! Confirmed dates, however, are December 4 – 8, 2013 and the deadline for writers to submit manuscripts for critique by editors and agents is November 1, so this is your heads-up to get your work ready! (Click on the image at left for a sneak peek of W&M 2013.)
Links you'll want to have for Words & Music include:
Those are the events we'll be attending to get inspired… what about you? Spoiler alert: Watch for news from us on November 1 where we'll be announcing an all-new event bursting onto the calendar in April, 2014!